Customer Analytics: How to Use It to Unlock Business Growth
What is Customer Analytics? 
Customer analytics is the powerful and clear investigation of customer information, and behavior with the objective to find out, attract and reach the relevant or suitable prospect.
It uses raw data to identify and understand customers' needs and satisfaction.  
One main goal behind using the best customer analytics is to identify and retain the most profitable customers.
These analytics are for advanced technologies including segmentation, data visualization, information management, and predictive modeling.
This process involves the collection and analysis of customer behavioral data across a wide range of devices and channels.
Importance of Customer Analytics
A company uses customer behavior analytics in different strategies such as pricing, promotion, and management. These strategies won't provide better results without understanding customer behavior.
The company collects customers' data from different communication channels and uses predictive analytics to predict their behavior.
This concept further acts as a platform for creating different strategies like customer acquisition, customer retention, and customer engagement.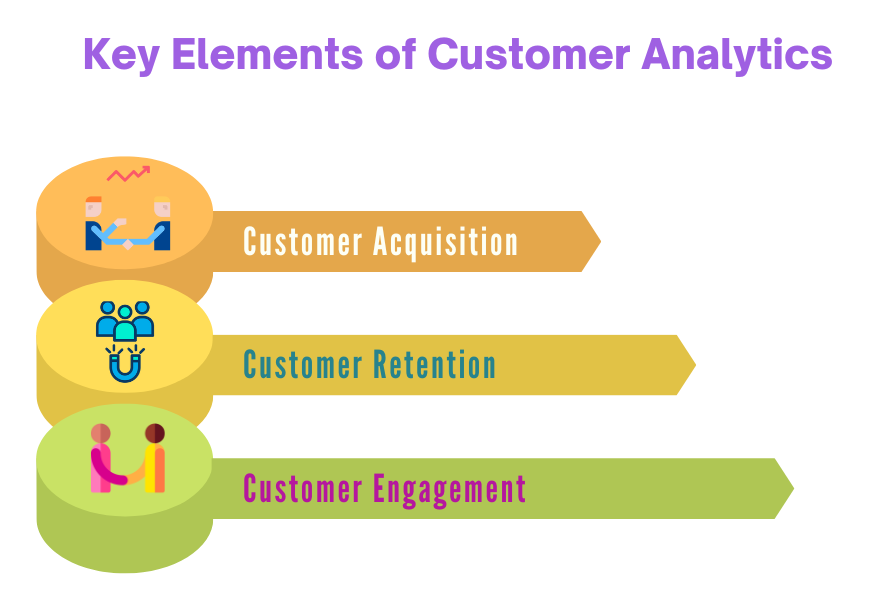 Customer acquisition: After doing research on customer behavior, prepare result-oriented marketing, and sales plans that fit the relevant customer.
You can reduce marketing costs by targeting the relevant and right customers. Increase the conversion ratio by creating personalized email marketing campaigns.     
Customer retention: You can use predictive customer analytics after conducting research on the churned customers.
Form the proper strategies to make them proactively engage with your product or service to prevent more churn.  
Customer engagement: Personalized experience plays a key role in effective customer engagement.
You can make them engage with your product by studying their challenges, pain points, and queries, and trying to provide solutions to all of these.
This customer engagement analytics will strengthen customer relationships.  
Convert Your Website Visitors into Profitable Customers
Customer analytics involves 3 different steps. These are:
Data Collection

Data Validation

Data Analysis  
Data Collection: – This process involves the collection of data from different sources of consumer interaction. These sources cover:
There is a lot more information you can get from website visitors.
Different tools including Mixpanel, Google Analytics, Optimizely, and CrazyEgg provide you with valuable information. 
With the aid of customer service calls, you can learn what kind of queries your customers have in their minds.
Based on this qualitative data, you can do an in-detailed behavior analysis. 
This idea will provide direct information about customers' sentiment about your brand and based on this you can measure different metrics including net promoter score and customer satisfaction.
You can conduct regular surveys to get customer feedback. 
Data Validation: Proper data validation is required for all the data. This is done to ensure the accuracy of your data.    
Data Analysis: Before you proceed with this process, keep customer personas in place.
By comparing customer use cases with collected data, you are able to create predictive models specifically for your business.
This gives a clear idea of how customers identify your product, what they search for, which features attract them most, and why they leave. 
In addition to these data, it is possible to analyze other details like customers' job profiles, their age, location, sex, income, and marital status.
After collecting all this data, you can use various technologies like ML, and AI for data purposes to find underlying patterns within such data. 
How Does Customer Analytics Help Businesses Grow and Improve?
The use of customer journey analytics tools can impact different processes including pricing, promotion, management, etc.
Businesses can make use of this data to prepare customer-oriented strategies and get a 360-degree view of the customer.
This analysis will help businesses come up with correct acquisition, retention, and engagement plans for customers.
Hence, it is said that customer analytics will change the customer decision-making process. 
Increased brand awareness: A powerful brand is purely dependent on an effective customer experience strategy. 
Enhanced customer engagement: Customer engagement rate can be increased by offering relevant products and showing personalized ads to your customers.
You can use customer analytics software to identify their needs.  
Enhanced sales and revenue: You can reach the right audience using a data-driven approach, which helps in getting more clicks, and increasing conversion rates. 
Reduce customer acquisition costs: Getting more new customers won't cost you much if you have sufficient data related to customer intelligence, preferences, etc. 
Top 3 Reasons Why Businesses Use Customer Analytics
It offers various benefits for almost all businesses:
Following Customer Safety: Customer safety has become the first priority for almost all businesses after the Covid-19 pandemic.
However, meeting the safety demands of customers has become challenging when businesses are doing many things to maintain operations. 
These analytics can help the company address the most common concerns of customers:
Monitor crowds

Clean and disinfect floors, and surfaces

Promote a social distancing, and safety culture in the workplace

Display necessary warnings, and signage

Maintain necessary temperatures
Improving impulse purchases: According to Ombori, "An impulse purchase is a sudden buying decision that happens prior to purchasing a product".
Impulse buying is another method for companies to boost revenue. They can use customer journey analytics software to study the user behavior behind unplanned purchases and plan effectively. 
Increasing business operations: This technique also increases overall business operations.
Positive feedback from customer

Enhanced staffing management

Improved conversion rates

Reduction in wait times

Measure marketing efforts

Identify product demand using POS systems

Enhanced customer appreciation
How Do You Implement Customer Data Analytics? 
Every business uses the right tools to gather different types of data, but it's difficult to understand which is the most important for your business. So, instead of considering all of your customer data, it's better to segment your data and give high priority to information related to your ideal customers. 
Keep the following 4 important factors in mind before implementing customer data analytics strategy:
Understand your customers: Customer journey mapping helps you understand who your customer is, what he/she prefers to buy, which mode of purchase attracts her/him, and how he/she interacts. 
Define your expected outcomes: Prior to data collection, you should have a clear idea of what are you trying to achieve, and what problems you are going to solve for your company or sales team.
These goals will take your analysis to the next level. 
Collect suitable data: No matter whether you are getting data from online forms, website browsings, blog comments, and email surveys but organize it systematically in a single dashboard.
In order to collect, and make proper use of data, organizations must collect it in a large quantities. They may conduct surveys, and user research, and collect user data either through their app or website.
In the case of apps, businesses may have to define activities where data is captured through user actions like login, logout, submitting the details, etc. 
Give importance to data security:  A data breach can damage your business reputation, and customers don't trust you, which leads to a negative impact on your profits.
Hence, always ensure your customers that their data is safe and only used wherever necessary.   
Make Smarter Data-driven Decisions with Powerful Customer Analytics
With websites, the majority of the customer analytics platforms indirectly collect all customer data.
The advanced feature of such platforms is they have a "central repository" for storing enough data. The goal of the central repository is to combine all data sources into a single view of your visitor. 
What are the 5 Customer Analytics Categories?
Customer analytics are powerful tools for companies to better understand customers and change services.
It is proven that businesses that implement analytics report 110% higher ROI. You can use customer data analytics to track what customers did and what actions you should take to target them in the future. 
Listed below are 5 categories of customer analytics. By understanding each of these customer analytics categories you can tackle various challenges in the market:
Descriptive Analytics: This type of analytics includes data perfectly. Usually, organizations collect data in structured, semi-structured, or unstructured formats.
This data may not be easy to understand, so it's important to make it understandable for customer success analysts.
With the help of descriptive analytics, an organization can understand the past, and enable result-oriented action plans for the future.  
 This technology provides different information including:
Browsing history of the customer

Customer information

Purchase history

Transactional behaviors and

CSAT information
Diagnostic Analytics: This technology uses customer behavior data to analyze the problems related to customer behaviors. 
Predictive Analytics: Organizations will look at both past and present data to identify the future opportunities of any event. Predictive customer analytics will predict the performance of an organization to predict many outcomes.  
Prescriptive Analytics: It helps in personalizing the user experience and highlights what products yield better results at what time. This enhances the prediction of the possibilities of converting or churning.
Segmentation Analytics: With this, you can improve personalized marketing efforts, content, and communication. Further, you can understand user behavior by creating sub-segments.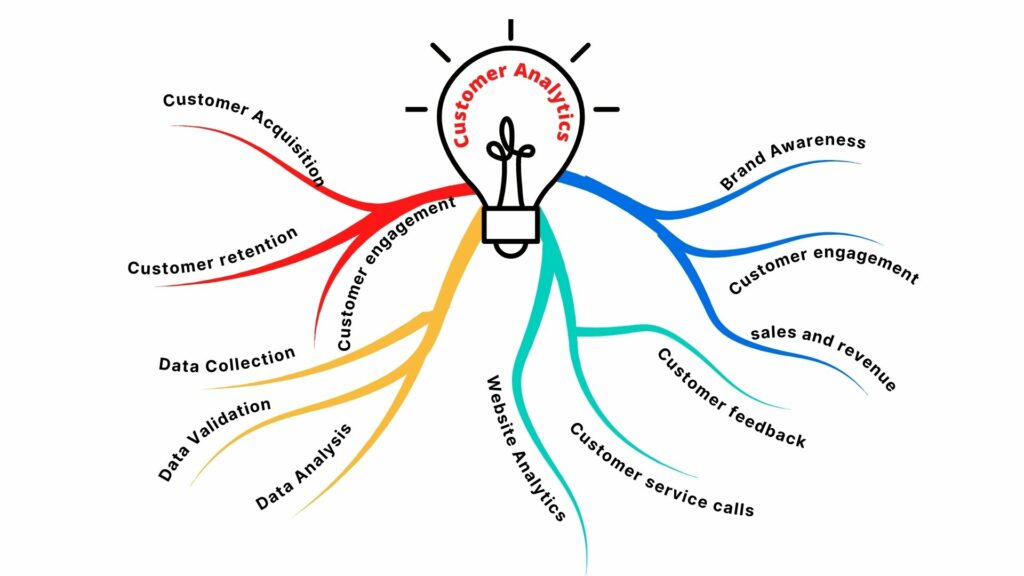 Conclusion:
Customer Analytics plays a vital role in understanding users and nurturing customer relationships. If your business uses the customer data properly, it will achieve the success it anticipates. It provides valuable insights which help businesses to have a stronger relationship with their loyal customers.  
Build sentiment analysis models with Oyster
Whatever be your business, you can leverage Express Analytics' customer data platform Oyster to analyze your customer feedback. To know how to take that first step in the process, press on the tab below.
Liked This Article?
Gain more insights, case studies, information on our product, customer data platform