What is Conversational Analytics and How It Helps Businesses?
Many analysts predicted 2019 to be the year of conversational analytics; the year when businesses will be on the road of transformation because of it.
That may or may not come to pass, but there`s little doubt in anyone`s mind that this form of data analytics has started to make its mark in the world of business. Like other forms of analytics, this one, too, rides piggyback on technology. After all, it`s a technology that`s increased the speed, span, and types of conversations. What`s more, with new developments, every conversation thread can turn into a thousand pieces of dialogue. And, as technology goes deeper into people engagement, so will conversational analytics.
Essentially, conversational analytics helps discussions with buyers become more meaningful.
Conversational analytics helps brands:
better analyze chats with consumers
enhance personalization
respond with the right messages for positive business outcomes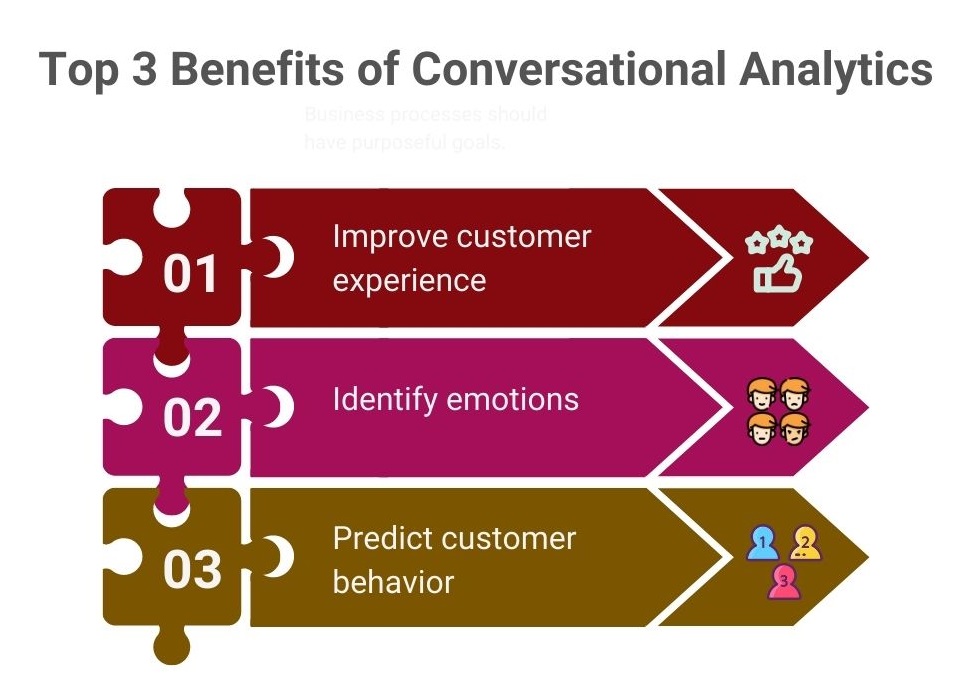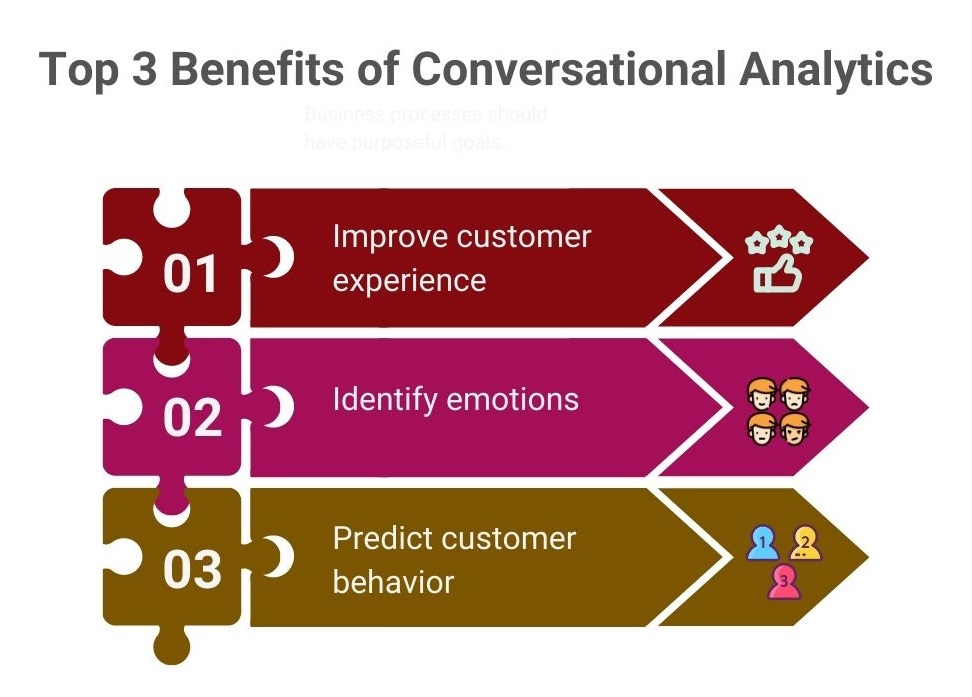 So, why now?
Why is the use of this Conversational analytics rising? What are the factors that are driving the onward march?
Some may find it ironic but today`s world finds itself increasingly using technology for, well, talking to each other. That`s right. Verbal communication has moved on from just two people speaking to each other, face to face; from the Neanderthals age to the post-modern world we find ourselves in today. People now use the Internet, software, and gadgets to communicate not only with each other but also with machines.
In all this, someone realized that all of it was producing tons of data which was going to waste. And that helpful soul thought – hey, how about analyzing it? That, in a simplistic manner, is what defines conversational analytics.
Here are 2 main causes for the growth of conversational analytics:
1. Messaging Apps
WhatsApp, WeChat, Facebook Messenger, LINE, Telegram, etc are chat tools used in abundance today. The number of users across such platforms is about to touch 3 billion this year.
2. Virtual Digital Assistants and voice search
"Hey, Siri, can you tell me how many people use voice assistants?" A recent survey says there will be 8 billion such assistants in use by 2023. Here's another prediction – the voice commerce market will be the US $80 billion by that year.
Look around you, everyone's using Google Voice, Amazon Alexa, Apple Siri, for almost everything – from flight booking to getting the news, to weather updates.
Over 45 million Americans currently possess a digital assistant or a smart speaker, shows another survey.
Smart-speaker ownership surged 36% to 53 million US people aged 18 and older, according to a survey from National Public Radio (NPR) and Edison Research. About 21% of US adults said they owned a smart speaker, such as an Amazon Echo, Google Home, or Apple HomePod.
With such staggering figures, can there be any doubt over the rise of conversational analytics at all?
Here`s an illustration that will help you understand just how much data is generated with one touchpoint or channel of communication:
Melanie has asked Alexa to order pink shoes. From the time she utters these words, "Hey, Alexa, can you order size 7 pink shoes at the cheapest rates for me?", to the time the product actually lands at her doorstep, a trail of data is created. It includes her shipping address, her payment method, her feet size, her color preference, the number of shoes ordered, a refund (if any & the reason), and so on. Not to forget that her preferred way of shopping is using Alexa. And these are just the superficial data that is easily collected with that one action of Melanie; going deeper fetches more.
But perhaps the biggest boost to this form of analytics comes from the advent of artificial intelligence applications in the real world.
AI, an all-encompassing word, means machine learning, natural language processing (NLP), and a host of other such techs.
AI tech is what has made two things possible:
(a) given the tech to develop machines that interact with humans
(b) given the wherewithal to make sense of the data that is generated, which would never be possible for even huge teams of humans.
Computers (machines) have started to understand human language. As they keep getting closer and closer to grasping the entire gamut of things vis-à-vis the human language, language-like nuances, the use of NLP will eventually lead to deep consumer customization, taking machine-human conversations to a new plane.
Overall, the advent of AI has made it possible to sift through the mounds of structured and unstructured data from such conversations, find hidden patterns, understand people's sentiment and increase personalization. This is the game-changer in conversational analytics, one that will act as fuel in a rocket.
An Engine That Drives Customer Intelligence
Oyster is not just a customer data platform (CDP). It is the world's first customer insights platform (CIP). Why? At its core is your customer. Oyster is a "data unifying software."
Liked This Article?
Gain more insights, case studies, information on our product, customer data platform